Ref: https://www.andoyaspace.no/articles/nasa-aces-ii-launched-from-andoya-space
Two American research rockets from NASA were launched from Andøya Space on November 20th, 2022.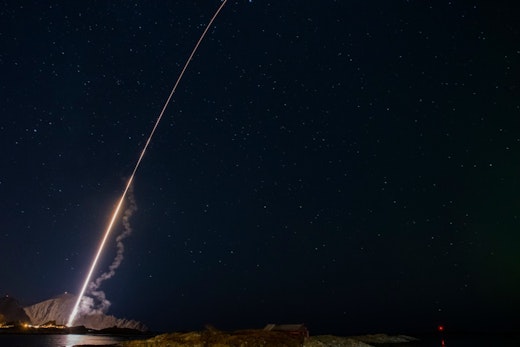 The ACES II mission was the first "NASA ship-and-shoot mission" from Andøya, where the payloads and ground support equipment were shipped via aircraft to Andøya Airport.
ACES II was a follow-up mission from ACES, which launched from a site in Alaska in 2009. ACES is an abbreviation for Aurora Current and Electrodynamics Structures.
The mission consisted of a total of two sounding rocket flights (36.359 and 36.364) launched from Andøya Space November 20th 2022 at 18:20 and 18:21.
This experiment was launched on two Black Brant IX launch vehicles. The payloads utilized a suite of in-flight instruments to take in-situ measurements of a stable auroral arc.
The payloads were launched with 120 seconds between the two launches, to achieve magnetic conjunction. The experiment required an Attitude Control System (ACS) on each payload.
Mission information
Project Manager: Daniel Bowden, NASA/Wallops
Principal Investgator: Dr. Scott Bounds, University of Iowa
Vehicles: 36.359 (Bounds High Flyer) and 36.364 (Bounds Low Flyer)
More information
Please contact Kolbjørn Blix, VP Sub-Orbital, Andøya Space