Ref: https://www.andoyaspace.no/articles/framsat-1-shake-test-at-andoya-space
Before a satellite is ready for launch it is thoroughly tested to make sure it can withstand both the rocket's intense shaking and vibrations during launch, as well as the harsh environment of space.
The first satellites to be launched from Andøya Spaceport will be several CubeSats from five institutions in Germany, Slovenia and Norway. These nanosatellites, measuring only 10 x 10 x 10 centimeters and weighing less than two kilos each, will be launched from Andøya Spaceport by Isar Aerospace's rocket "Spectrum".
One of these CubeSats is FramSat-1, built by members of the student organization Orbit NTNU at the Norwegian University of Science and Technology (NTNU).
FramSat-1 will test an experimental sun sensor developed for satellites and sounding rockets. Such sensors measure the sun's position relative to the satellite, to determine the satellite's attitude in space
The sun sensor on FramSat-1 has been delivered by the Norwegian space company Eidsvoll Electronics (EIDEL). Other organizations which contribute to the FramSat-1 mission are Andøya Space Sub-Orbital, Andøya Space Education, Institute for electronic systems at NTNU, the Norwegian Space Agency, Kongsberg Group and Inission.
An important milestone
Like all satellites and spacecraft, the student CubeSats must pass several tests demonstrating that they can withstand the intense shaking and vibrations during launch as well as the harsh environment of space.
Andøya Space is the facility for FramSat-1's shake test.
– This is an important milestone in the development of all satellites, says Mathias Askeland, project manager for FramSat in Orbit NTNU.
FramSat-1 was taken through vibration tests at several different frequencies to check that the results are within the specifications from Isar Aerospace. The resonance frequency of the satellite will also be detected.
– In addition, we will test functionality at every axis to ensure that all subsystems onboard still work as intended, says Askeland.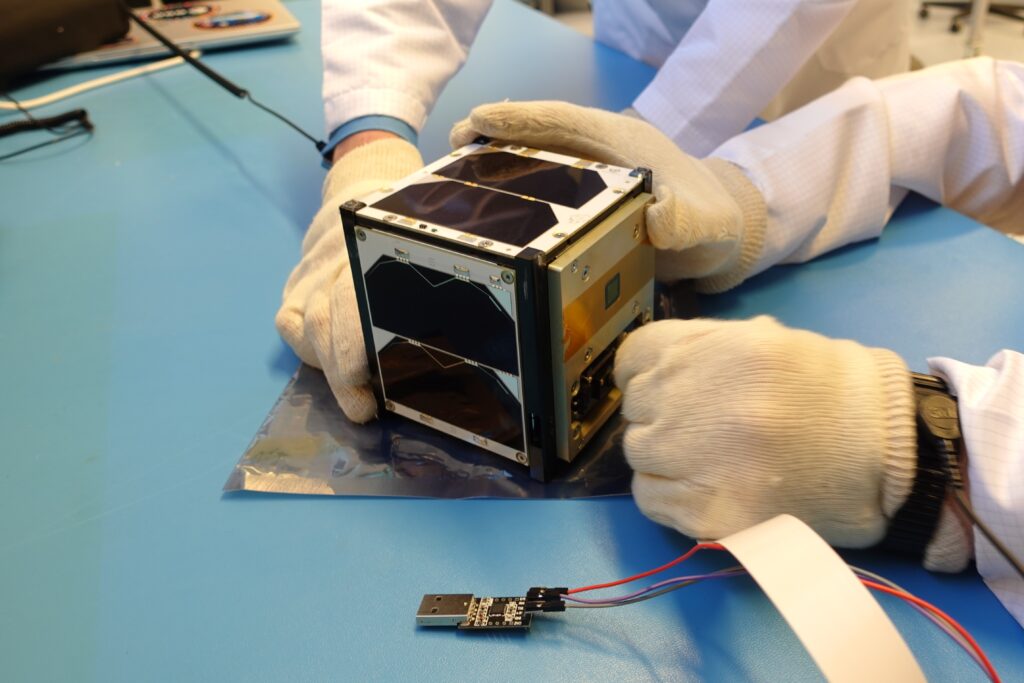 Making connections with the space industry
– Everyone working on FramSat-1 have made a maximum effort these last months. We are very relieved that the satellite is ready and that we have solved all the challenges which arose during development, Askeland says.
After the shake test at Andøya, the three students participating in the test will bring FramSat-1 with them back to Trondheim.
The students at Orbit NTNU are developing another satellite identical to FramSat-1, to be launched later.
– It's been a pleasure to work with our FramSat-1 partners and develop strong connections with the Norwegian and international space industry, Askeland says.
Environmental testing at Andøya Space
Andøya Space has developed an environmental testing facility for qualifying sounding rocket payloads.
– Here we have equipment for performing spin-balancing, spin-deploy, bend-down and vacuum testing, in addition to the vibration table used for testing Framsat-1, says Geir Lindahl, Chief Engineer at Andøya Space Sub-Orbital.
– With the rapid growth of the satellite market and the construction of our new launch base, we also intend to adapt our test facilities to be able to support more satellite customers, says Lindahl.
Space Education 2.0
Framsat-1 is a pilot project in Space Education 2.0, an initiative which aims to use the new educational possibilities which have opened due to the creation of Andøya Spaceport.
– We aim to increase the utilization of the infrastructure here at Andøya Space for both Norwegian and international universities, says Jøran Grande, project manager at Andøya Space Education.
This infrastructure includes the new launch facilities for small satellites, as well as the launch base for sounding rockets, Alomar – a laboratory for atmospheric science at Andøya Space.