Alomar Observatory
Arctic Lidar Observatory for Middle Atmosphere Research
The observatory is part of the Andøya Space Center, the world´s northernmost launch site for sounding rockets, situated at 69 N, 16 E. Universities and institutes from eight countries have installed instruments at ALOMAR and contribute to the operation costs.
Photo
:
A view of the Alomar Observatory during lidar measurements.
By:
Trond Abrahamsen
Webcameras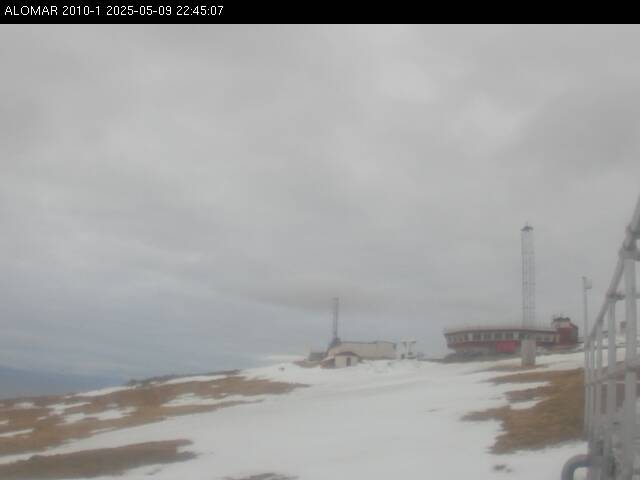 Facility
The well equipped facility, easily accessible by mountain road, includes laser cooling water, power backup (UPS, diesel generators), high speed internet access, mechanical workshop, laboratories, telescope hall and office space. Overnight stay is possible.
Science Opportunities
The observatory includes remote sensing instruments that cover the atmosphere from ground to lower thermosphere. Synergy is gained through co-location of different instruments investigating both in a common height region and across the atmosphere layer.
Scientific Installations
Present instruments at ALOMAR comprise active and passive remote sensing systems. Active remote sensing facilitates the atmospheric return of strong laser pulses or radar signals to probe for various height depended physical properties. Passive remote sensing utilizes the emission or the absorption of radiation in the atmosphere to get various column properties, e.g. trace gases, electron or aerosol content.
Human Resources
Qualified personnel operates the scientific instruments at ALOMAR on a daily basis and provides technical support for temporary and permanent installations. In close co-operation with the scientists, ALOMAR takes responsibility for concept and technical realization of new instruments and for science support related to campaign based research activities at Andøya.
Advocacy of the scientific users of ALOMAR
In order to maximize the science benefits arising from ALOMAR instrumentation, the community of ALOMAR scientists, the ALOMAR Science Advisory Committee (ASAC) express their joint interest in enhancing participation in collaborative research by guest scientists from other institutions throughout the world.
Interested scientists need only to coordinate their desired research involvement with the PIs of the ALOMAR instruments they wish to use. Instrumentation, PI contact addresses, and information on the possible cost involved in such endeavors is available.
Get in Touch
Sandra Blindheim, Director of Alomar
sandra@andoyaspace.no, office: +47 76 14 45 06
Reidar Lyngra, Senior Engineer
reidar@andoyaspace.no, mobile: +47 410 47 851
Arild Danielsen, Staff Engineer
arild@andoyaspace.no, office: +47 76 14 45 02
Malin Abrahamsen, Staff Engineer
malin@andoyaspace.no, office: +47 76 14 45 11
RMR Lidar: +47 76 14 45 07
Ozone / Troposphere Lidar: +47 76 14 45 08
Sodium Lidar: +47 76 14 45 09